A Word on Paul Attalla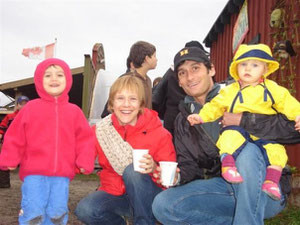 Paul Attalla talks with deep intensity about what it will take to cross the Atlantic on a row boat.  His 6 month old daughter, Amy, is napping curled up in the crook of his arm while he talks about the even more difficult challenges of getting to the start line in the Canary Islands. The collective fund raising effort for Solo the Atlantic is inching closer to the goal, while he ramps up his training, he also needs to juggle emails, phone calls and interviews, helped by a small support team.

"Once I get on the water, that will be the easy part".

He peppers his dialogue with self-effacing humour where the corners of his eyes crinkle and a smile slowly spreads across his chiseled face, and his quiet smooth voice belies the burning spirit of a fierce competitor who is about to embark on something so out of the ordinary.  

Born on December 11, 1970 at the old Holy Cross Hospital in Calgary, Alberta, Paul spent his formative years in Calgary focused on skiing and ski racing with his older brother Peter and a group of life long friends. At 16, Paul hung up his gear as a junior racer with the Sunshine Ski Club at Sunshine Village near Banff, Alberta to concentrate on his high school studies and spent two seasons as a ski coach and was named Nancy Greene "Coach of the Year" in 1989.

Graduating from Dr. E. P. Scarlett High School in Calgary in 1989, Paul headed west to Vancouver, to the University of British Columbia where, in 1994, he graduated with a Bachelor of Physical Education with a Specialty in Exercise Science.
 
During university, he took a year off and worked and surfed in Australia and Bali with his friends.  He spent total of 9 summers tree planting in Northern British Columbia, and continued to ski.  With each endeavour, those who know him have countless stories of Paul who worked and played, harder and faster than the rest with countless outrageously funny pranks thrown in for good measure.

Completing his Doctor of Chiropractic Studies from Western States Chiropractic College, Portland, Oregon in 1999, he spent a year in Squamish, BC. The rugged setting of Fernie, BC where the Rockies and Elk River converge, was the perfect training ground for an aspiring high endurance athlete that will eventually take him from this quiet town to the turbulent waters of the Atlantic.

A successful and popular chiropractic practice connects Paul to a closely-knit Fernie community that fervently supports his solo journey with publicity and fund raising.   He now has a major Corporate Title Sponsor with Scotia Bank's generous donation.  It's fantastic.  Childhood and university friends, aka, Team Attalla, have undertaken a sizeable fundraiser that will help him reach closer to his goal. Along the way, family, friends, sponsors, as well as people who've never knew him before, have stepped up to support and cheer on what this lone Canadian is attempting to accomplish.

Paul and Nicole and their two young daughters, with two dogs, Scally and Smokie, have a very active and busy household. Nicole, like all mothers of a toddler and an infant, deftly multi-tasks but unlike most mothers, she will be facing the formidable task of holding down the family fort for the duration of Paul's 60 to 100 day race, when baby Amy, will start to take first of her many steps and older daughter, Joy's, budding vocabulary will continue to blossom into sentences and paragraphs.   

On November 2nd, Paul, with his family, landed in the Canaries where he starts his ocean bound training in the tropical waters off of La Gomera.  Let it be known that, Paul Attalla will embark on the toughest and the most extraordinary challenge of his life when he will launch "The Spirit of Fernie" on December 2, 2007 from the shores of La Gomera, Canary Islands.   This is huge for Fernie and this is huge for Canada.