Donate or Sponsor Paul Attalla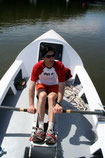 Sponsorship Opportunity

Become associated with a global media event that only now has the potential for exposure in Canada as a result of my participation.  Canada has never had a boat in the toughest self propelled endurance race in the world – be a part of history.
Paul is offering a chance to help showcase Canada as among the world's best in the most difficult and demanding race in the world.
Take your company 5500km across the Atlantic
If you would like to Sponsor Paul Attalla in the prestigious race across the Atlantic, please
click here for the sponsor video
as well as download the sponsorship PDF file below.  We would love to have you on board this incredible feat to represent Canada and our human rights as Paul races across the Atlantic Ocean.
Click the link below to download the sponsorship kit

Sponsorship Kit for Paul Attalla
2007communitysponsorkitlores.pdf
Adobe Acrobat Document
780.3 KB