Press Release Information
October 30 2007

Scotiabank gets on board to support B.C. man in 5,500 kilometre solo Atlantic rowing race
VANCOUVER, October 30, 2007 - Fernie, B.C., resident Dr. Paul Attalla departs for Northern Africa on Wednesday, October 31, 2007, to prepare for what is sure to be the most arduous and epic adventure of his life: a solo rowing race across the Atlantic Ocean.
Attalla, 36, is the only Canadian to be participating in The 2007 Atlantic Rowing Race, and one of only five soloists. The remaining 20 boats will compete in the pairs, fours and sixes categories. The race, which leaves from San Sebastian, La Gomera (Canary Islands) on December 2, 2007, is 5,500 kilometres and is expected to take about 100 days.
The Atlantic Rowing Race, which has been referred to as "the Iditarod on steroids", will have Attalla at sea with no motor and no sail. As an endurance athlete who has excelled in competitive sports, he'll rely on his experience and countless hours of training to safely arrive (along with his 24 foot boat) on dry land in Antigua sometime in early March, 2008. In the 2005 race, competitors dealt with three tropical storms, the tail end of a hurricane, a shark attack, multiple capsizes and six dramatic rescues. Fewer people have successfully completed the race than have climbed Mount Everest.
Attalla is racing to fulfill a long-standing personal dream, but to also raise awareness for the Canadian Museum for Human Rights. The trip will cost approximately $200,000 and any funds above and beyond his trip expenses will be donated to the museum. Scotiabank is proud to have joined Attalla 's crew of supporters, contributing $30,000 to help fund his adventure and will be wishing him the very best when he leaves Vancouver this Wednesday. Scotiabank is also a proud supporter of the Canadian Museum for Human Rights.
"Along with having great respect for his athletic accomplishments, we are extremely supportive of Paul's decision to use this adventure as a platform to benefit the Canadian Museum for Human Rights," said George Marlatte, Senior Vice-President, Scotiabank. "We join Canadians from coast to coast who will be cheering for him through every hard-fought kilometre of his journey."
"Paul is a real local hero," added Claudette Daigle, who manages Scotiabank's branch in Attalla's hometown of Fernie. "Everyone on staff is very excited for Paul. On casual Fridays, we're all going to be wearing 'Solo the Atlantic' tee-shirts and we'll have an in-branch display to raise awareness of his participation in this real-world amazing race."
"I am very pleased to have Scotiabank's support in this adventure, and to share with them a commitment to the Canadian Museum for Human Rights," said Paul Attalla. "The fit just seems natural."
Some of Attalla's previous accomplishments include:
- 4th in solo category and 13th overall in the 2005 Yukon River Quest (at 740 kilometres, it's the longest kayak race in the world);
- 1st Canadian in the 2003 24 Hour World Solo Mountain Biking Championship; and
- 7th in 2003 Trans Rockies Mountain Bike Race (600 kilometre ride across the Rockies, dubbed "the hardest mountain bike race in North America" by Mountain Bike Magazine).
You can keep track of Paul's journey and make a donation by visiting his website, www.solotheatlantic.com.
Scotiabank is committed to supporting the communities in which we live and work, both in Canada and abroad. Recognized as a leader internationally and among Canadian corporations for its charitable donations and philanthropic activities, in 2006 the Bank provided more than $42 million in sponsorships and donations to a variety of projects and initiatives, primarily in the areas of healthcare, education and social services. Scotiabank is on the World Wide Web at www.scotiabank.com.
- 30 -
For more information:
Paul Attalla, (250) 423-0223
Kim Struthers, Scotiabank Public Affairs, (778) 327-5451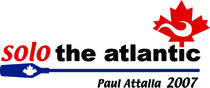 Press Release
On December 2, 2007 a lone Canadian will attempt to row a 24 foot boat across 5,500 stormy kilometres of the Atlantic Ocean from La Gomera in the Canary Islands to Antigua in the Caribbean.  The Atlantic Rowing Race has been described as "the toughest endurance race in the world" and Fernie, BC native Paul Attalla will row the first Canadian boat to compete in this epic contest.
During the qualification process in the U.K., other competitors perceived Paul as the "Jamaican Bobsled Team" of the ocean rowing world.  Canadians are not internationally renowned for their ocean rowing prowess, but this skepticism only served to fuel his competitive fire and now he is determined to prove the skeptics wrong.
Paul has teamed up with the Canadian Museum of Human Rights and any funds beyond the cost of the race will go towards this charity.  The Canadian Museum of Human Rights aims to stop discrimination by promoting tolerance, empathy, peace and equality. The Canadian Museum of Human Rights will become a powerful symbol of Canada's unwavering commitment to recognizing, promoting, and celebrating human rights. It will be a global meeting place for learning, dialogue and greater understanding.
In the 2005 Atlantic Rowing Race competitors faced the tail end of a hurricane, three tropical storms, a terrorizing shark attack, multiple capsizes and six dramatic rescues. This race promises to be "wave after wave of adrenaline-pumping adventure."
Media Inquires

For Media Inquires please contact Paul Attalla at 250-423-4456 or email info@solotheatlantic.com